ATC: Miếng khi đói bằng gói khi no. Lá lành đùm lá rách. Bầu ơi thương lấy bí cùng…  Bài viết này cho mình thông tin khá đầy đủ những nơi đang thực hiện việc cứu trợ. Các bạn có thể giúp những nạn nhân kém may mắn bằng check hay credit card.
DS chọn:
Hội Từ Tế Phật Giáo: Buddhist Tzu Chi Foundation: http://www.us.tzuchi.org/us/en/index.php?option=com_content&view=category&layout=blog&id=138&Itemid=397&lang=en
Hội từ thiện Do Thái: American Jewish Joint Distribution Committee, website: https://secure3.convio.net/jdc/site/Donation2?idb=2137527652&df_id=2741&2741.donation=completed&idb=2137527652.
Xin mọi người mở rộng lòng từ bi và xin cầu nguyện cho những nạn nhân xấu số.
Nam Mô A Di Đà Phật.
Đây là bài viết của Christopher Dawson và Jennifer Grubb, CNN
updated 5:44 AM EST, Mon November 11, 2013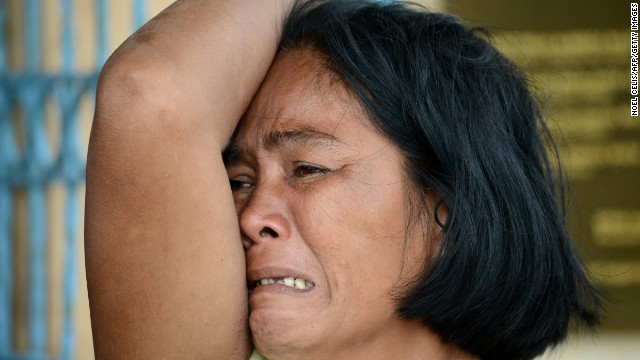 A woman mourns her dead son at a chapel in the aftermath of Super Typhoon Haiyan in Tacloban, eastern island of Leyte on November 9, 2013.
STORY HIGHLIGHTS
Relief organizations are accessing needs, but there are ways to help now
Typhoon Haiyan left utter devastation and thousands of casualties in the Philippines
As the storm targets Vietnam, aid may be needed there
(CNN) -- The stories coming out of the Philippines are unimaginable. Rushing water and wind tearing children away from their parents' arms. A death toll that may be over 10,000. A city of 200,000 in which no buildings appear to have survived intact.
One of the most intense typhoons on record, Haiyan (locally known as Yolanda) left catastrophic destruction behind.
If you're looking for someone missing in the Philippines, or if you have information about someone there, Google.org has launched the Typhoon Yolanda Person Finder. A Google crisis map has also been added to detail evacuation centers and areas designated for relief.
Charities and nongovernmental organizations (NGOs) from around the world are responding to this disaster. Many are detailed below with how they're providing aid and how you can help them make a difference.
Emergency support
The Philippine Red Cross (PRC) has deployed rescue and relief teams to evaluate the damage in the areas devastated by Typhoon Haiyan. You can donate to the Philippine Red Cross by selecting the Supertyphoon Yolanda campaign on their donation page. The International Federation of Red Cross and Red Crescent Societies (IFRC) and Red Cross networks from around the world are supporting the Philippine Red Cross. Many have created specific funds for this disaster, including the American Red Cross, Canadian Red Cross and the British Red Cross.
The American Jewish Joint Distribution Committee (JDC) is working with local authorities, the Filipino Jewish community and their global partners to assist in providing for survivors' immediate needs. You can support their efforts online or by phone at 1-212-687-6200.
CARE's emergency response teams are coordinating with local partners in the Philippines to provide food, water, shelter and health care for those in need. Their teams in Vietnam are preparing for the potential need there as Typhoon Haiyan continues its devastation. You can support CARE's efforts on their website, or by phone at 1-800-521-2273 within the United States or +1-404-681-2252 outside the U.S.
Catholic Relief Services, the official international humanitarian agency of the Catholic community in the U.S., is on the ground helping with water purification, shelter materials and essential living supplies. You can donate to the organization's efforts online or you can call 1-877-435-7277. You can also type in your phone number on the website and a representative will call you back to take your donation.
Convoy of Hope's Global Disaster Response Team has shipping containers full of food and supplies on the way to the Philippines. The organization is preparing more supplies to be sent like canned goods, hygiene kits and water filtration units. You can visit Convoy of Hope's website to donate funds to their efforts or call 1-417-823-8998.
Mercy Corps is preparing to deliver food, water, temporary shelter and other basic supplies to devastated areas throughout the Philippines. You can support the organization by donating through their website, PayPal, or by calling 1-888-747-7440.
Oxfam America aid teams are on the ground in northern Cebu, northern and eastern Samar and Leyte, in the Eastern Visayas region in the Philippines. They're working to provide immediate access to water and sanitation materials. You can support this effort by donating online to their Typhoon Haiyan Relief and Recovery Fund, or by phone at 1-800-776-9326.
Adventist Development and Relief Agency's (ADRA) emergency response team is working in Manila and in the province of Bohol to provide food, emergency relief and medical aid to those in need. They have launched an emergency appeal that you can support online or by phone at 1-800-424-2372.
Teams from Plan are also on the ground responding to the needs of children and their families: their priorities are vulnerable youngsters and communities in rural locations. You can support their appeal on their website.
Food and water
The World Food Programme was already providing emergency food assistance in the Philippines following the October earthquake. With these emergency food stocks stretched thin, they're now mobilizing additional supplies and are flying in 40 tons of fortified biscuits in the coming days. Additional food supplies are needed. You can help these efforts by donating online or by calling 1-202-747-0722 domestically or +39-06-65131 for international calls.
Samaritan's Purse has sent disaster relief specialists, including water and nutrition experts, to the Philippines to deliver immediate aid. They have launched the Philippines Emergency Relief fund for this disaster, which you can support online or by phone at 1-828-262-1980.
World Vision is responding in the Philippines by first providing emergency food and clean water. They will also work to create child-friendly spaces and help families rebuild from this disaster. They have launched a Philippines Disaster Response Fund that you can support online or by calling 1-888-511-6443.
Action Against Hunger is on the ground providing drinking water and survival kits containing buckets, soap and chlorine tablets. They're also working to distribute sanitation equipment to prevent outbreaks of waterborne diseases. They're requesting assistance and you can help by donating online or by calling 1-877-777-1420.
Shelter
ShelterBox was already in the Philippines providing shelter after the 7.2 earthquake that hit Bohol on October 15. They are now expanding their operations to provide tents and essential equipment for families left homeless after Typhoon Haiyan. You can support their work in the Philippines either online or by calling 1-941-907-6036.
Habitat for Humanity is already providing help to 30,000 families with shelter repair kits to rebuild their damaged homes. You can support this work by donating from the Philippines to their Re-Build Philippines Fund or from the U.S. by contributing to their Disaster Response Fund. You can also make a donation by phone at 1-800-HABITAT.
Architecture for Humanity is mobilizing to assist with post-disaster reconstruction and the organization's working with local architects to identify the most critical rebuilding needs. You can support their Super Typhoon Haiyan Response online, by calling 1-415-963-3511 or by texting REBUILD to 85944 to make a $10 donation from your mobile phone.
Medical assistance
Americares has an emergency shipment on the way to the Philippines with enough medical aid for 20,000 survivors, including antibiotics, wound care supplies and pain relievers. You can support Americares with an online donation or by calling 1-800-486-4357.
International Medical Corps has pre-positioned medical supplies and their team is on the ground coordinating with their partners in the Philippines to distribute and provide medical aid. You can support their Typhoon Haiyan Emergency Response fund online or by calling 1-800-481-4462.
More than 1.5 tons of emergency medicine and medical supplies are en route to the Philippines from Direct Relief. The supplies include antibiotics, pain relievers, nutritional supplements, antifungal medications, wound dressings and chronic disease medicines. You can call in your donation by dialing 1-805-964-4767 or you can go online to support the organization.
Helping children
The U.S. Fund for UNICEF is helping children and their families in the Philippines receive shelter, clean water, nutrition and vaccines. Their emergency response can be supported online or by calling 1-800-367-5437. You can also donate directly to UNICEF in the Philippines here.
Save the Children is offering disaster relief support for children in the Philippines, Laos and Vietnam after Typhoon Haiyan. You can support their Philippines Annual Monsoon and Typhoon Children in Emergency Fund online. You can also donate by phone at 1-800-728-3843.
Emergency response teams from ChildFund International prepositioned supplies, including emergency kits and tents, and made arrangements with local suppliers to access food and non-food relief supplies. The organization is also preparing to setup child- centered spaces where kids can feel safe. Donate to ChildFund online to help children cope and recover confidence after this disaster.
http://www.cnn.com/2013/11/09/world/iyw-how-to-help-typhoon-haiyan/index.html